News and ANNOUNCEMENTS
Newark EMS becomes Opioid Overdose Prevention Training Site.
​
​Recently Newark EMS became a Opiod Overdose Prevention training site. This allows our staff to train and certify those wishing to recognize and treat opioid overdoses. This national epidemic reaches every community, and ours is no different. In 2016 Wayne County had one of the highest rates of opioiod abuse of the 9 counties in the Finger Lakes Region more than Monroe County per 100,000 in population with 117 ED visits and 7 deaths. If you would like more information on the program, or want to learn how you can help visit our information page.
Opioid Overdose Prevention
---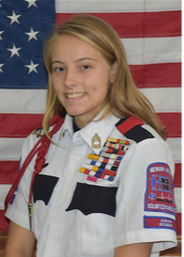 ​​Crawford Wins Newark Chamber's 2018 Outstanding Youth Award

Newark High School senior Kailyn Crawford is the 2018 winner of the Greater Newark Chamber of Commerce Outstanding Youth Award.
She received her award at the annual Chamber dinner November 8th at the August Mauer Post 286 of the Newark American Legion.
NHS BioMedical Sciences teacher Shawn Flanagan, a state-certified paramedic who is Director of Junior Membership for the Newark Emergency Medical Services, nominated Crawford for the award.
In his nomination, Flanagan noted Crawford has been a Junior Member at Newark EMS since her freshmen year. Chamber President Jessica Wells read some of Flanagan's remarks.
"She has been cleared to ride the ambulances since last year and to date, has served almost 200 hours on board the ambulances providing care to patients and assisting our paramedics and EMTs with their tasks of serving the community. She has served as a Junior Member Leader and served nearly 700 hours over 4 years at Newark EMS.
"Kailyn has a special spirit that is friendly and disarming. She is able to make connections with the crew, the patients and her fellow Junior Members. She brings ideas to the attention of adult leadership and is always available to help the leadership and the agency as a whole.
"She has served in many different functions including service on the ambulance, at the base (CPR, first aid), etc.), for local youth groups and maintains her hard work at NHS as a fourth years BioMedical Sciences student."
Crawford plans and to attend FLCC in the fall and begin a path to obtaining a nursing/ EMS degree and certification in hopes of become a medical flight professional.
---