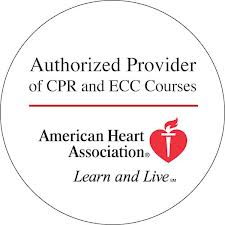 ARE YOU PREPARED IN THE EVENT OF AN EMERGENCY?
Research clearly shows the sooner someone receives CPR and defibrillation from an AED after suffering from cardiac arrest, the more likely they are to survive. As an emergency medical service, we look to the community to help us by becoming trained in CPR and learning how to use an AED.
WE PROUDLY CPR TRAINING
It is our belief that all members of the community should be certified to perform CPR and know how to use an AED.Newark Arcadia EMS proudly certified as an American Heart Association (AHA) Training Site. Whether you're an individual in the community, a medical professional, or a business owner looking to train your employees in CPR, our staff will work closely with you to setup a training program that allows you or your employees to help others in their time of need.

***The American Heart Association strongly promotes knowledge and proficiency in all AHA courses and has developed instructional materials for this purpose. Use of these materials in an educational course does not represent course sponsorship by the AHA. Any fees charged for such a course, except for a portion of fees needed for AHA course materials, do not represent income to the AHA.***
---
---


​ Available Courses
Advanced Cardiac Life Support (ACLS)
This advanced course highlights the importance of high-performance team dynamics and communication, systems of care, recognition and intervention of cardiopulmonary arrest, immediate post-cardiac arrest, acute dysrhythmia, stroke, and acute coronary syndromes (ACS).
Basic Life Support (BLS)
The BLS Instructor-led course teaches both single-rescuer and team basic life support skills for application in both prehospital and in-facility environments, with a focus on High-Quality CPR and team dynamics.
Pediatric Advance Life Support (PALS)
PALS is a classroom, video-based, Instructor-led course that uses a series of simulated pediatric emergencies to reinforce the important concepts of a systematic approach to pediatric assessment, basic life support, PALS treatment algorithms, effective resuscitation and team dynamics.
Heartsaver First Aid
Designed to meet OSHA regulations, this course covers first aid basics, consisting of the most common life-threatening emergencies, how to recognize them, how to call for help, and how to perform lifesaving skills.
Heartsaver CPR AED
This course will teach you to recognize cardiac arrest, get emergency care on the way quickly, and help a person until more advanced care arrives to take over. The course also covers adult choking and naloxone.
Heartsaver First Aid CPR & AED
This course is designed to meet OSHA requirements and covers first aid basics and CPR and AED skills for adults, children, and infants.
Friends and Family CPR
The Family & Friends CPR Course teaches the lifesaving skills of adult Hands-Only CPR, child CPR with breaths, adult and child AED use, infant CPR and relief of choking in an adult, child or infant. Skills are taught in a dynamic group environment by using the AHA's research-proven practice-while-watching technique, which provides students with the most hands-on CPR practice time possible.
Family & Friends CPR is for people who want to learn CPR but do not need a course completion card in CPR for their job. This course is ideal for schools and students, new parents, grandparents, babysitters and others interested in learning how to save a life.
FOR MORE INFORMATION ON OUR CPR TRAINING OR ANY OF OUR OTHER AHA CLASSES EMAIL: aha@newarkambulance.org